A write up in the Post Dispatch about crowd-sourcing some new new bicycles for high-school students who had never owned a bike before. Click here to go to the original article.
By Ashley Jost St. Louis Post-Dispatch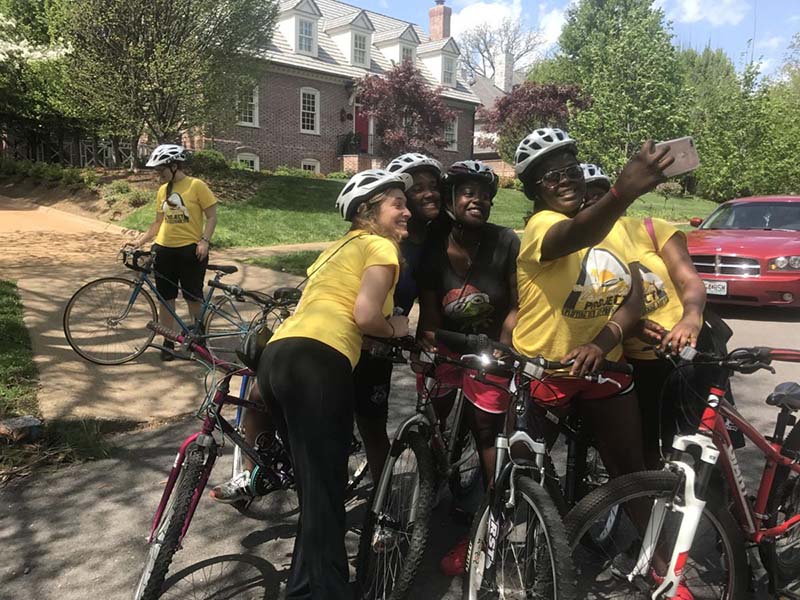 Karli Anderson, center, takes a photo with Samantha Lurie, left, Oteria Lawrence, CaRosa Johnson and Taylor Powell before they ride their bikes from Clayton to Vashon and Gateway STEM high schools. (Photo by Ashley Jost, ajost@post-dispatch.com)
CLAYTON • Eleven St. Louis high school students pedaled away from Karen Kalish's Clayton home Saturday on their new bicycles — for some, it was the first bike they had ever owned.
Kalish will chalk it up to luck and the power of community, and she isn't wrong.
But a good idea has to start somewhere.
Kalish recently helped students from Gateway STEM and Vashon high schools bolster their public speaking skills as they worked on a fundraising goal for a trip to Central America. The students are part of St. Louis schools' Show Me Costa Rica Project.
Samantha Lurie, dean of students at Vashon, organized the project five years ago and travels to Costa Rica with a handful of students each year to study biology, among other things.
In the process of raising money for the trip, Lurie said the students shared personal information about themselves. One student mentioned she had never learned how to ride a bike.
Turns out, she wasn't the only one, and only two of the 14 students even owned bicycles, Lurie said.
This bothered Kalish, who runs a nonprofit focused on helping children through teacher home visits.
"I want every kid in the city to have the same thing as the kids here in Clayton," she said.
Kalish dropped an email to 100 of her closest friends, asking if anyone had a bicycle in their garage or basement that they wouldn't mind giving up. A week or so later, 11 bikes showed up in her garage.
Most needed some work done before she could give them to the teenagers, so she sent another email out.
A friend connected her with Gary Mazzola, retired Parkway South High School principal, who agreed to fix all of the bicycles for free.
Washington University and developer Michael Staenberg donated locks and helmets so the teens would get a package deal with their new rides.
All Kalish asked is that the students write thank you cards, as she says an "attitude of gratitude is really important."
The value of Kalish's work to put everything together wasn't lost on Karli Anderson, a junior at Vashon High School.
"It's been two years since I've had my own bike," she said. "I appreciate her doing what she did for the project this year. She didn't have to get the bikes, get the locks, and I feel like it's going to be really enjoyable thing for us."
The students rode with their teachers to Kalish's house and got fitted for their bicycles before riding back to their high schools on their new rides.
Along the way, the student groups split up and went to either Vashon, a seven-mile ride, or Gateway STEM, which is more than six miles away. St. Louis Public Schools Superintendent Kelvin Adams came along for the ride, as did a few teachers.
Anderson joked that she was a little hesitant about riding more than seven miles from Kalish's house to Vashon.
"You have to think, when was the last time you did something for the first time?" she said. "You don't want to miss out on something just because you feel like, 'No, I'm not doing it.' You have to try it and see what that experience will be like, or you will end up mad at yourself."
So she went, as did the other students.
Clayton police escorted them to the city limits, and St. Louis police escorted them from there.
"It's an absolute community effort," Kalish said, pointing to the show of support from friends after her emails. "A lot of people won't ask for things, but I'll ask for anything if it helps the kids."